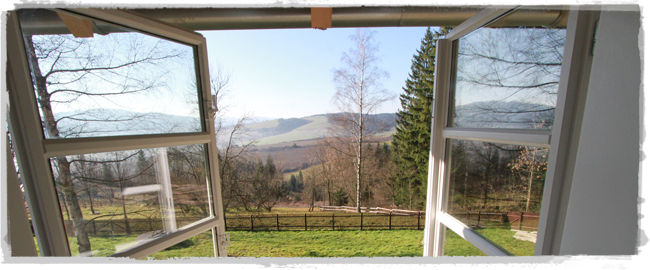 Neighborhood
RAKOVA
Home 66 is located in a secluded area near the Rakova village (Cadca District). Rakova is the birthplace of the famous Slovak playwright and priest Jan Palarik (1822-1870). Major landmarks of Rakova are Neo-Gothic Church of the Nativity of the Virgin Mary and Jan Palarik Memorial.
Here is a list of some interesting places in Rakova we recommend visiting.
Rakova Farm - GPS: N49° 26\\\\\\\' 23.856" E18° 44\\\\\\\' 26.772"
The farm offers its top products in a special farm store - original sheep and cow cheese, milk, curd and other fresh products.
phone +421 905-511319
Rakova Fishery - GPS: N49° 27\\\\\\\' 22.788" E18° 43\\\\\\\' 17.616"
Rakova Fishery ensures a supply of delicious fresh trout raised in hatcheries with clear mountain water.
phone: +421 907-568096
Bakery - GPS: N49° 26\\\\\\\' 33.828" E18° 43\\\\\\\' 57.9"
The famous Rakova bread is baked here!!
TIPS FOR TRIPS
Turzovka – the pilgrimage site Zivcakova with healing springs 
www.zivcakova.sk
Open-Air Museum of Kysuce village and a historical narrow gauge switchback forest railway Vychylovka
Very attractive for children.
www.kysuckemuzeum.sk
Slovak Astronomical Clock - Stara Bystrica
A unique clock was revealed in Stara Bystrica in July 2009. This is the first (and so far only) astronomical clock in the Slovak Republic.
www.starabystrica.sk
Birthplace of Jozef Kroner - Staskov - GPS: N49° 25\\\\\\\' 23.63" E18° 41\\\\\\\' 22.78" 
A popular Slovak actor Jozef Kroner (1924-1998) was born in Staskov (adjacent to Rakova). His birth house is open to the public.
Megonky - GPS: N49°29\\\\\\\'46.5" E18°43\\\\\\\'20.1"
Here you can admire the huge stone balls. It\\\\\\\'s a real geological rarity.
Trojmezi - borders of three states - GPS: N49°31\\\\\\\'1.720" E18°51\\\\\\\'3.385"
Border of the Czech Republic, Slovakia and Poland - Hrcava, Cierne and Jaworzinka.

Petranky viewing tower  - GPS: N49°22\\'34.5" E18°43\\'54.8"

Dinolandia - amusement park - GPS: N49° 52\\\\\\\' 2.784" E19° 24\\\\\\\' 33.876"
Prehistoric theme park in Inwald, Poland - a lot of fun for kids!  - www.dinolandia.pl/en

SPORT
SKIING
HOME 66 is located in the vicinity of several quality ski resorts. You can even start your cross-country skiing straight from the door of the building!
Snowparadise Velka Raca
www.velkaraca.sk
Ski Mosty u Jablunkova - GPS: N49° 31\\\\\\\' 35.292" E18° 45\\\\\\\' 33.984"
www.skimosty.cz
Ski Area Dolní Lomná
www.severka.eu
CYCLING
HOME 66 surroundings can be considered as a cycling paradise. A newly built bicycle trail will take you from the Jan Palarik Square to the ridge of the Beskids, along the Czech - Slovak border to the villages of Dolni Lomna (16 kilometers from Rakova) or Mosty u Jablunkova (18 km) and further to other places. For more information check out www.mtbbeskydy.sk.
Besides this trail, there is practically an infinite number of options for wonderful cycling tours.
WALKING, HIKING, TREKKING
Hiking has an extraordinary charm in Kysuce. If you want to experience the peace, tranquility and privacy during your hiking trips, you are at the right place. Of the many options available, we recommend, for example, a trip to the Velky Polom and then along the state line to the Tetrev Cottage on the Czech side. You can start this trip directly from HOME 66.
The Mala Fatra Mountains nearby also offer many hiking opportunities.

TENNIS

Tennis court in Rakova-Korchan - 49°28\\\\\\\'49.476", 018°41\\\\\\\'32.568"

phone: +421 907-568096
SWIMMING AND WELLNESS
Aquapark Mosty u Jablunkova - summer swimmning

Rajecke Teplice

Rajecke Teplice belongs to one of the most famous Slovak spas. We recommend a visit to the outstanding spa and wellness center in the Aphrodite Hotel.
www.spa.sk
Aquapark Tropikana Wisla - GPS: N49°39\\\\\\\'37.962" E18°51\\\\\\\'33.383"
A very popular water park and spa in the Golebiewski Hotel in Wisla, Poland. www.golebiewski.pl/cs/wisla/spa-wellness/tropikana-water-park

Park Wodny Olza  - GPS: N49° 34\\\\\' 27.6\\\\\'\\\\\' E018° 54\\\\\' 29.9\\\\\'\\\\\'
A modern water park and spa in Istebna (Poland) only 39 km from HOME 66.
http://www.istebna.org/park-wodny-olza-atrakcje.html

important contacts
Cadca Hospital
www.kysuckanemocnica.sk