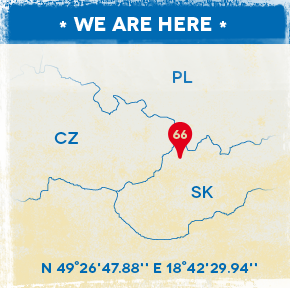 HOME 66 – ROUTE 66 OASIS IN SLOVAKIA
HOME 66 is a spacious, newly renovated weekend house, situated in the beautiful countryside on the Slovak side of the Beskid Mountains - Kysuce. HOME 66 is located in a secluded area near the Rakova village (Cadca District). Its location close to a border of three countries (Slovakia, Czech Republic and Poland) offers many opportunities for sports, entertainment, motorcycle trips and many other activities.

This historic wooden building with adjacent land is completely dedicated to the old Route 66. In addition to original artifacts from the Main Street of America, the whole object also shows the best of a large photo archive, which was collected during numerous Route 66 exploring expeditions organized by the Czech Route 66 Association. There is a also a small art gallery which represents works of famous American photographers, authors and artists closely associated with Route 66. The overall style of HOME 66 gives clear at the first sight that every fan of American nostalgia will feel here like on the good old "sixty six".
HOME 66 provides a high standard and comfort of accommodation. With 5 double bed guestrooms, our HOME 66 is ideal for families, office retreats, groups of friends, motorists and so. There are 5 fully equipped bathroom facilities, a lounge, large kitchen, a spacious terrace and a luxurious Finnish sauna with a relaxation area.
HOME 66 is the starting point for many trips. Just a few minutes from us you can visit a popular ski resort Velka Raca, famous Fatra Mountains, thermal resort Rajecke Teplice, pilgrimage site Turzovka and other tourist destinations.
Stylish restaurants on the Polish side of the border offer an excellent "Goral" cuisine . You can also buy fresh trout in Rakova Fisheries or try an extremely tasty cheese directly from a manufacturer - the Rakova Farm. From there you can also take a trip on horseback.
We think this is enough for a brief introduction. Come and experience for yourself the wonderful Route 66 oasis in Slovakia!